OUTDOOR FIREPLACE WITH GRILL
Assembly: 15 minutes. The atmosphere: enough for all barbecue events!
GRILL ON AND JUST CELEBRATE OUTSIDE
The outdoor talent SURPRISE impresses with its elegance and easy handling.
On the terrace at home, in the garden with friends and relatives - SURPRISE is set up to transform your get-together into a fascinating barbecue experience. This outdoor talent will impress you and your guests with its exceptionally elegant design and is ready for use even when things need to be done quickly.
Practical: The outdoor fireplace is firmly on its base in just 15 minutes. Shortly afterwards the fire lights up in the glass panorama. And while the food sizzles on the grill, the smoke escapes through the chimney. Without annoying smoke and flying sparks - but with more than just a hint of an exclusive atmosphere and cozy conviviality: this is your SURPRISE!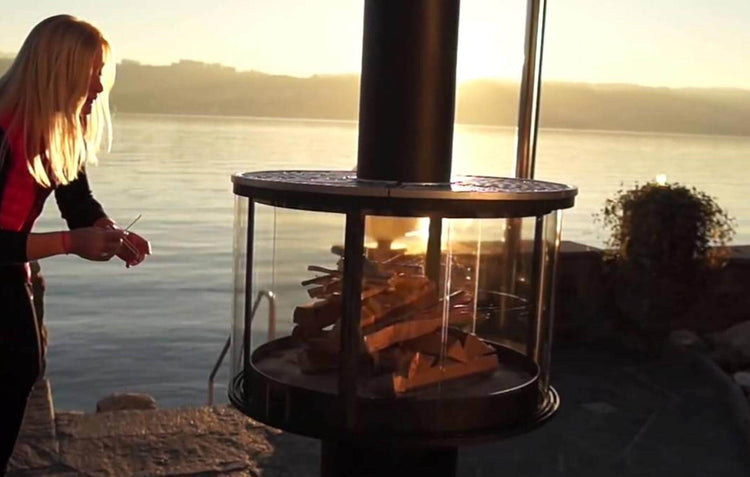 OUTDOOR FEELING & GRILL PLEASURE
SURPRISE IS ALWAYS AVAILABLE WHEN THE BARBECUE REALLY NEEDS TO BE A SUCCESS.
ENJOY OVEN HEAT IN STYLE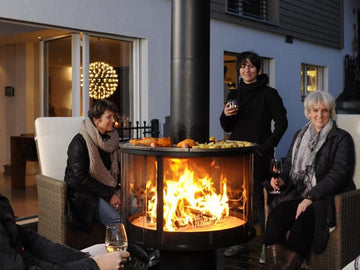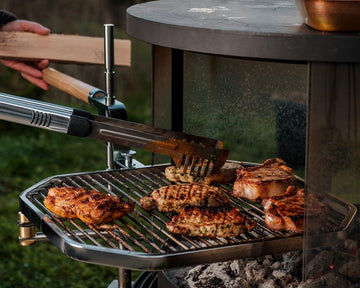 BRING IT INTO PLACE
Take the base, firebox panels, glass panes, chimney and grill plate, put the whole thing together in just 15 minutes and light a fire that ignites exhilaration. So easy – the SURPRISE outdoor grill is ready at the party location so quickly.
ENJOY THE ATMOSPHERE
The SURPRISE likes to be the center of attention and remains open to views from all sides. The glass panes of the barbecue fireplace wind in a circle around the fire pit. A luminous panorama for a real campfire atmosphere and the highlight for your barbecue!
EASY TO HANDLE
Do you value easy handling? The SURPRISE outdoor grill offers you comfortable functionality before, during and after your barbecue event. As quickly as it can be set up, cleaning is also quick.
OUTDOOR FIREPLACE FOR TERRACE & GARDEN
Barbecue season? With you now all year round!
Once set up, there is an elegant invitation to grill together in your garden or on your terrace every day. Spend cozy evenings with your family in a campfire atmosphere. Welcome friends, acquaintances and relatives to special barbecue events. Put the SURPRISE as an eye-catcher at the center of your outdoor event.
Simply celebrate outside in an atmosphere of style and elegance? Your SURPRISE outdoor fireplace is recommended as the center of conviviality for your smaller barbecue evenings and larger barbecues. Decide on the fireplace grill today, start your order in our shop - and look forward to exceptional grilling experiences for you and your guests.
KEY DATA
Outdoor fireplace with grill
Outdoor fireplace for terrace & garden
Set up in just 15 minutes
Glass panorama with an all-round view
Smoke goes off, no flying sparks

Easy cleaning of the grill plates
Ideal for outdoor barbecue events
Real campfire feeling
Further information, as well as heights and dimensions for the SURPRISE outdoor fireplace can be found in the data sheet:
Download dimension sheet
YOUR NEW OUTDOOR BBQ FIREPLACE IN PICTURES
A look at our gallery reveals: SURPRISE creates exactly the right atmosphere for your barbecue event!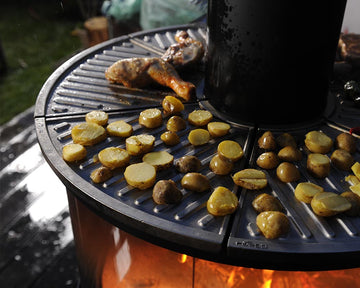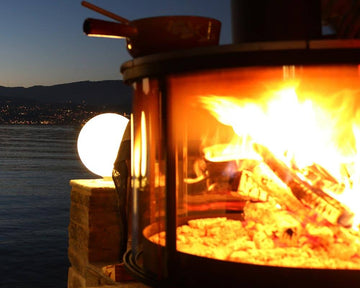 ABOUT US
The terrace fireplace / grill SURPRISE was developed by Rüegg and is sold by us, the WOLFENER KACHELOFEN- & CHIMNEY MANUFACTORY. Our factory has been around for 25 years now. We respond sensitively to our customers' wishes and create individual and unique masterpieces. The WOLFENER TILE STOVE & FIREPLACE MANUFACTURE relies on three fundamental cornerstones that determine all thinking and actions: warmth, values ​​and quality.

Your team from the Wolfen tiled stove and fireplace manufacturer
warmth
... a pleasant warmth that not only flows through your house, but also warms your heart and brings joy when the family meets.
Values
... create things that outlast the times, that defy our fast-paced, high-tech times with their longevity of many years, like a rock in the surf.
Quality
... is created through attention to detail, through perfect craftsmanship and through selected materials of purely natural origin.