GRILL FIREPLACE IN A LUXURY DESIGN
For those who want enchanting aesthetics.

THE LUXURY GRILL AND FIREPLACE FOR PREMIUM DESIRES!
EDEL is very important here!
A truly well-rounded thing! With its clear design and high-quality workmanship, SURPRISE consistently speaks of exclusivity and elegance from the base to the height of the chimney. The elegant, modern design of the fireplace deliberately aims to impress and impress the maximum – first the host, then the family and finally the invited guests.
SURPRISE is positioned to create an extraordinary ambience and to inspire both functionally and creatively. The luxury grill can be set up in just 15 minutes - its effect resonates for a long time. In short: a terrace fireplace with a premium character for a significant increase in luxury - for experiences and impressions that will be remembered fondly.
ALWAYS AN OCCASION TO CELEBRATE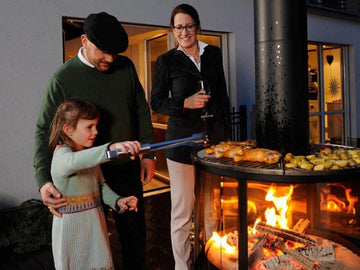 FAMILY FRIENDS
Would you like to heat up the grill for an evening with the family? Invite friends to a barbecue at short notice? SURPRISE gets ready for use quickly - and, in addition to the food, always provides you and your guests with comfort and an exclusive feel-good atmosphere.
ROMANTIC EVENINGS
Enjoy the warm summer night for two? Start a blazing fire in your garden or on your terrace with the luxury fireplace. For a glowing orange-yellow-white play of colors. For engaging warmth. For sizzling moments together.
BARBECUE & GRILL PARTIES
Whether it's a private barbecue or a business barbecue - the luxury grill SURPRISE is aware that the eye always catches the eye. With his appearance, all lovers of sophisticated taste feel warmly invited and deliciously served.
GRILL, FIREPLACE, LUXURY AND COMFORT IN ONE
Convincing in appearance. Elegant to use.
It can be an envious look, right? If your friends, colleagues or business partners' mouths open with excitement during your barbecue, it could of course be due to the taste of the food - but most likely it could also be due to the appearance of your new luxury grill. SURPRISE knows how to make an impression!
The fireplace stands out with its luxurious design as well as its ease of use: the assembly is quick and easy. The grill plates and glass panes can be easily removed and cleaned. In other words: SURPRISE combines grace, ambience and functionality for successful barbecue evenings.
YOUR LUXURY GRILL
Grill and fireplace in an elegant luxury design
High-quality glass pane panorama
Fire pit without smoke and flying sparks

Quickly ready for use in 15 minutes
Grill plates are easy to clean
Ideal for the garden and terrace
An elegant eye-catcher at every barbecue
Further information, as well as heights and dimensions for the SURPRISE - luxury grill can be found in the data sheet:
Download dimension sheet
OUR CUSTOMERS ALREADY ENJOY PURE GRILL LUXURY!
Get an idea of ​​how the SURPRISE can create atmosphere in your garden, on your terrace.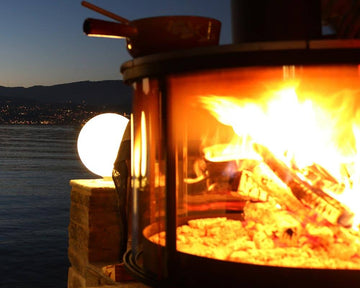 ABOUT US
The terrace fireplace / grill SURPRISE was developed by Rüegg and is sold by us, the WOLFENER KACHELOFEN- & CHIMNEY MANUFACTORY. Our factory has been around for 25 years now. We respond sensitively to our customers' wishes and create individual and unique masterpieces. The WOLFENER TILE STOVE & FIREPLACE MANUFACTURE relies on three fundamental cornerstones that determine all thinking and actions: warmth, values ​​and quality.

Your team from the Wolfen tiled stove and fireplace manufacturer
warmth
... a pleasant warmth that not only flows through your house, but also warms your heart and brings joy when the family meets.
Values
... create things that outlast the times, that defy our fast-paced, high-tech times with their longevity of many years, like a rock in the surf.
Quality
... is created through attention to detail, through perfect craftsmanship and through selected materials of purely natural origin.