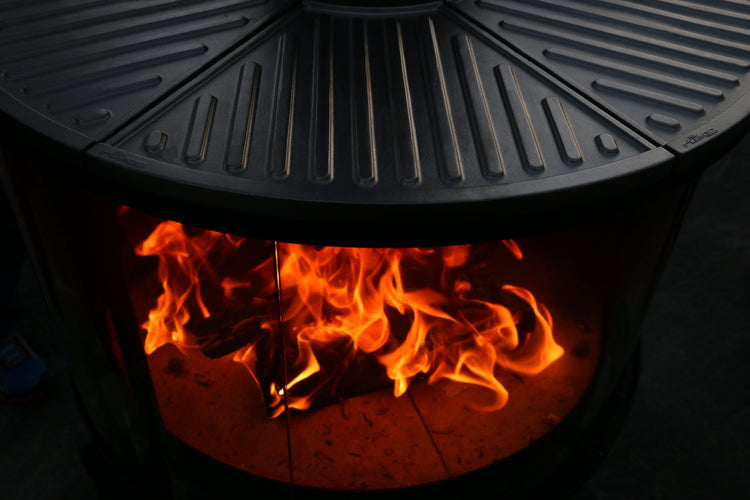 The grill & patio fireplace for that special ambience
The Rüegg® Surprise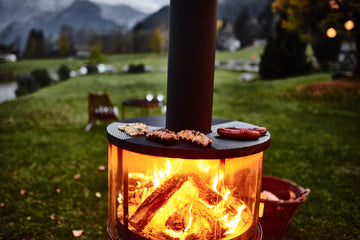 Grilling and more on the firebox
Grilling without smoke - no problem with the fine glass ceramic grill plates or the robust cast iron grill plates. The firebox can be equipped with 0 to 6 grill plates, depending on the quantity and type of food to be grilled. The area on the firebox can also be used for pots, pans, etc. eg for fondue, mulled wine and other fine things.
Accessories for grilling on the firebox
Grilling in the firebox
For those who like it really smoky and hot, there is also the option of grilling in the firebox. With our matching accessories, the embers can be used for grilling after they have burned down. But the use of charcoal or barbecue briquettes is also possible. In addition to various grill grates, a chestnut pan, a pizza stone and other accessories are also available.
Accessories for grilling in the firebox
dimension sheet and purchase
Use the dimension sheet to find out all the details and dimensions of the patio fireplace / grill.
You can order your Rüegg® Surprise in various ways.
Either here online via the shop. There are a variety of payment options available to you, such as PayPal, credit card, hire purchase and others.
Or order offline by phone, fax, email or letter. When ordering offline, we only offer payment in advance.
Download dimension sheet
discover more accessories
Impressions of our customers
Happy moments, sociable get-togethers and a cozy ambience - maybe soon at your home too?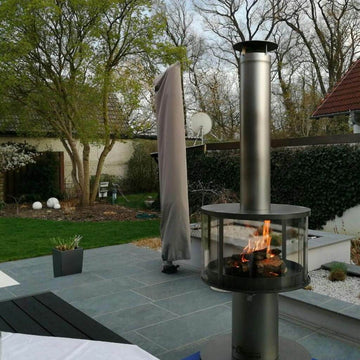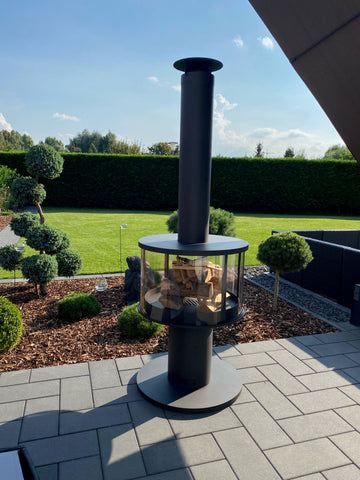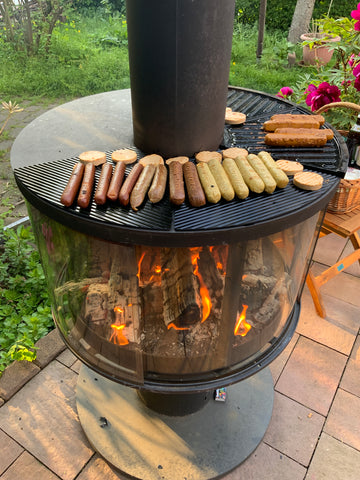 Help, tips and support
Here you will find assembly instructions, operating instructions, videos, as well as useful tips and tricks.
About Us
The terrace fireplace / grill SURPRISE was developed by Rüegg and is sold by us, the WOLFENER KACHELOFEN- & KAMINMANUFAKTUR. Our manufactory has been around for 25 years now. We respond sensitively to the wishes of our customers and create individual and unique masterpieces. The WOLFENER KACHELOFEN- & KAMINMANUFAKTUR relies on three fundamental cornerstones that determine everything we think and do: warmth, values ​​and quality.

Your team from the Wolfener Kachelofen- & Kaminmanufaktur
warmth
... a pleasant warmth that not only flows through your house, but also warms your heart and brings joy when the family meets.
Values
... create things that outlast the times, that defy our fast-paced, high-tech times with their longevity of many years, like a rock in the surf.
Quality
... is created through attention to detail, through perfect craftsmanship and through selected materials of purely natural origin.