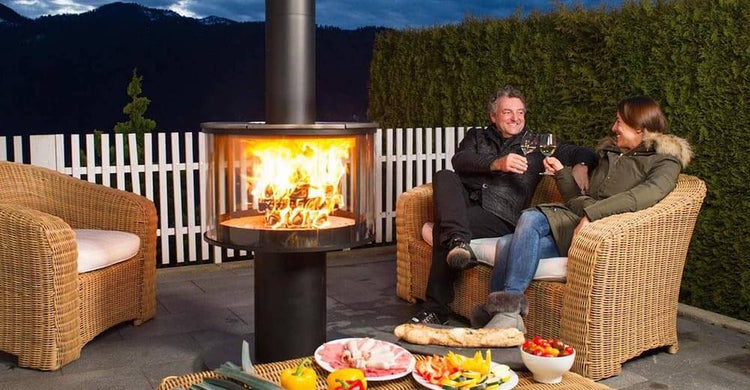 GRILL FIREPLACE FOR GARDEN & TERRACE
With a clear view of the fire all around!
YOUR NEW GRILL FIREPLACE IS A TRUE AESTHETIC!
360° fire view for 100% campfire atmosphere
Do you also think that a barbecue fireplace should be able to do more than just prepare food? Then let SURPRISE cast its spell on you! High-quality glass panes curve around the fire pit, providing a clear view of the burning wood. This barbecue fireplace promises a pure campfire feeling whenever you want.
In your garden or on your terrace, the design-loving esthete always invites you and your guests to a cozy get-together. Smoke and fumes drift down the chimney. Embers and sparks remain in the glass fireplace. The ideal basis for sociable afternoons, good-humoured barbecues and evenings full of relaxation and peace.
SURPRISE – A GRILLING EXPERIENCE
BRING A FINE GRILL MASTER TO YOUR GARDEN, TO YOUR TERRACE.
DESIGNED FOR VERSATILITY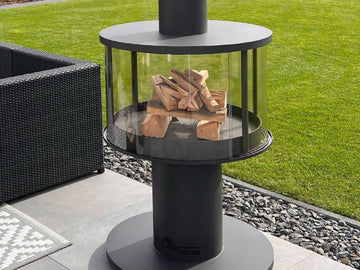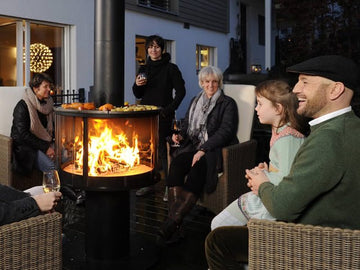 DESIGN MIRACLES
The SURPRISE barbecue fireplace is recommended if you attach great importance to aesthetics in your garden and on your terrace. With its clear design language, the modern design is unobtrusive on the one hand - and is impressive because of this.
VIEW MAGNET
Like at a campfire: the glass pane panorama is certainly one of the highlights of the barbecue fireplace. Whether at the front, back, left or right: Free-standing, SURPRISE offers a clear view of the fire pit from all sides on your terrace and in your garden.
GRILL MASTER
Start a fire if you want to enjoy the warmth of the fireplace - or put out delicious food if you want to celebrate with family and friends. Fire pit, grill and outdoor fireplace in one, all cast in an elegant design!
PERFECTLY SET FOR GRILLING
Relax with the family. Invite you to a barbecue.
Sizzle and enjoy! On the SURPRISE grill fireplace you can cook to your heart's content with pans or grill directly over the embers or on grill plates. Depending on the volume of the wood you let flare up, these develop a heat of 250 to 300 degrees. Ideal for bringing meat, sausage and vegetables to the right temperature.
During your barbecues, your new barbecue fireplace will shine with its luxurious and modern design. The SURPRISE then shines with easy cleaning of grill plates and glass panes. Comfort, atmosphere and barbecue area in one – do you already have new barbecue creations in mind? Then plan this year's barbecue parties now in your garden, on your terrace!
GRILL FIREPLACE
Grill fireplace for garden & terrace
High-quality, elegant design
Set up in 15 minutes
Glass pane panorama
No smoke, no flying sparks
Grilling over embers, on griddles
Cooking in pans
Easy cleaning
Ideal for barbecues
Campfire atmosphere
Further information, as well as heights and dimensions for the SURPRISE barbecue fireplace, can be found in the data sheet:
Download dimension sheet
WELL SET UP: YOUR NEW GRILL FIREPLACE FOR GRILLING
The SURPRISE could also provide grilled delicacies in your garden and on your terrace: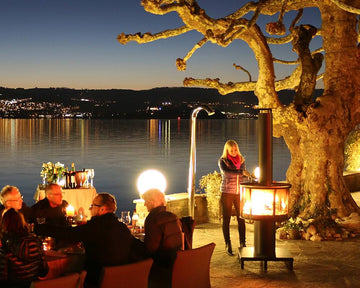 ABOUT US
The terrace fireplace / grill SURPRISE was developed by Rüegg and is sold by us, the WOLFENER KACHELOFEN- & CHIMNEY MANUFACTORY. Our factory has been around for 25 years now. We respond sensitively to our customers' wishes and create individual and unique masterpieces. The WOLFENER TILE STOVE & FIREPLACE MANUFACTURE relies on three fundamental cornerstones that determine all thinking and actions: warmth, values ​​and quality.

Your team from the Wolfen tiled stove and fireplace manufacturer
warmth
... a pleasant warmth that not only flows through your house, but also warms your heart and brings joy when the family meets.
Values
... create things that outlast the times, that defy our fast-paced, high-tech times with their longevity of many years, like a rock in the surf.
Quality
... is created through attention to detail, through perfect craftsmanship and through selected materials of purely natural origin.