GARDEN OVEN & TERRACE OVEN
Fondue, barbecue... or simply enjoy the cozy warmth.
FIRE YOUR OUTDOOR OVEN
Campfire atmosphere without smoke and flying sparks
An outdoor fireplace? An oven that provides heat and can also be used as a grill? A fire pit that allows the smoke to escape easily and protects you from swirling embers? All this with a clear view of the luminous and bewitching spectacle of the blazing flames? The SURPRISE combines all of these aspects in an aesthetically pleasing outdoor fireplace.
Arrange seating around each other. Let yourself go together with your guests. And immerse yourself in an engagingly warm, feel-good atmosphere with the patio and garden oven. Whenever you want to celebrate and enjoy outdoors with a fireplace (and grilled food too): the SURPRISE oven is ready for a noticeable increase in quality of life!
FIREPLACE. OVEN. GRILL.
TREAT YOURSELF AND YOUR GUESTS TO A GARDEN OVEN/TERRACE OVEN IN AN ELEGANT LUXURY DESIGN.
ENJOY OVEN HEAT IN STYLE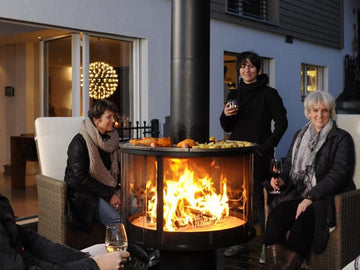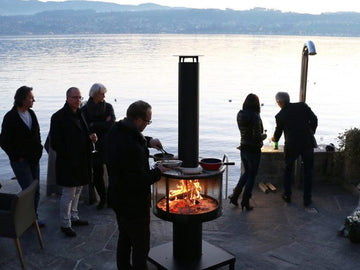 QUICKLY SET UP
You can set up the oven in a short time. In just 15 minutes it is in place and ready for use. This means that the SURPRISE can be quickly repositioned if the upcoming barbecue evening is moved from the terrace to the garden at short notice.
FIRE ALL AROUND
How many outdoor fireplaces can claim this: Transparency is obviously part of the design of the garden and terrace fireplace - you and your guests can see the fireplace from all sides through the glass panes.
VERSATILE APPLICABLE
Whether you just want to enjoy the warmth of the oven, sit with the family over fondue or welcome dozens of party guests to a tasty barbecue: SURPRISE is recommended as a romantic fireplace, outdoor kitchen and grill master.
AN OVEN FOR SPECIAL BARBECUE PLEASURE
The new meeting place in your garden, on your terrace!
Would you like to use your new garden and patio oven as a grill and cooking area? Then simply place sausages, meat, vegetables, raclette, etc. on the food-safe grill plates. Depending on the volume of wood fired, they develop a heat of 250 to 300 degrees. Just the right temperatures to heat up your food and serve your guests something tasty.
In all of this, SURPRISE always combines easy handling and smoke-free and spark-free enjoyment with aesthetics and atmosphere. On your barbecue evenings, the good taste doesn't just come from the food you serve - it is also reflected in the exclusive design of your oven, from the base to the height of the smoke pipe. A real eye-catcher for the garden and terrace!
OVEN SURPRISE
Patio and garden oven
Outdoor fire pit
Insight from all sides
A real grill master
Quick assembly in 15 minutes
Protection from embers and sparks
No annoying smoke and fumes
Easy cleaning
For fondue, raclette and co.
Further information, as well as heights and dimensions for the SURPRISE garden and terrace oven can be found in the data sheet:
Download dimension sheet
MOOD PICTURES OF OUR CUSTOMERS
Get an impression of how the fireplace can make your terrace shine in a new light.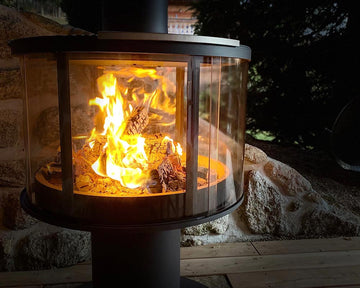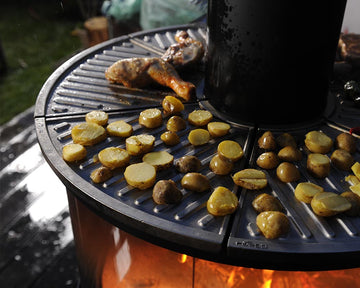 ABOUT US
The terrace fireplace / grill SURPRISE was developed by Rüegg and is sold by us, the WOLFENER KACHELOFEN- & CHIMNEY MANUFACTORY. Our factory has been around for 25 years now. We respond sensitively to our customers' wishes and create individual and unique masterpieces. The WOLFENER TILE STOVE & FIREPLACE MANUFACTURE relies on three fundamental cornerstones that determine all thinking and actions: warmth, values ​​and quality.

Your team from the Wolfen tiled stove and fireplace manufacturer
warmth
... a pleasant warmth that not only flows through your house, but also warms your heart and brings joy when the family meets.
Values
... create things that outlast the times, that defy our fast-paced, high-tech times with their longevity of many years, like a rock in the surf.
Quality
... is created through attention to detail, through perfect craftsmanship and through selected materials of purely natural origin.